About Peel Community Kitchen
Supporting those in need within our Community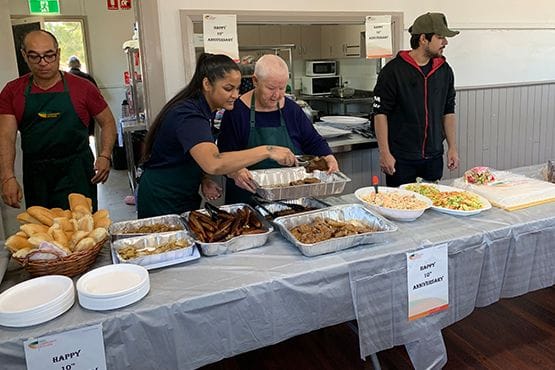 The Purpose of the Kitchen
To serve the community and provide meals and support within a welcoming environment.
We aim to make a positive difference, particularly to people and families in greatest need. The homeless, unemployed, elderly pensioners and families living below the poverty line.
We are non-judgmental, non-discriminatory and accepting of all people.
The History of Peel Community Kitchen
Offering a Soup Kitchen type service in the Peel region had been discussed by various organisations for a long period of time, yet not one group or organisation had the opportunity or the resources to be able to commit to such a venture.
In June 2009, a group of volunteers from all walks of life met to discuss the possibility of commencing a hot soup service. The outcome of this meeting saw the birth of the Peel Soup Kitchen (so named from September 2009 to February 2012) and with a borrowed van from Peel Outreach, volunteers met at the Newburn Centre car park to offer hot soup and blankets for those in need.
At the same time, inquiries were underway to source a permanent home and within weeks, one was found. The City of Mandurah Recreational Services offered the use of the Sutton Street Hall for three days a week on a free of charge basis. By September 2009, the Kitchen was successfully operating from the Sutton Street Hall offering free hot beverages with morning/afternoon tea, soup, sandwiches, clothing and blankets.
Woolworths Mandurah then came on board as a Partner with their Not For Profit Sponsorship Program and the Peel Soup Kitchen was the grateful recipient of vegetables and dry goods on a twice a week basis. In conjunction with weekly donations of bread from a local bakery, food, bread and vegetable packs were successfully given out to individuals and families in need.
A Management Committee was set up to administer the Peel Soup Kitchen and this was headed by members of Jesus Cares Ltd who provided mentoring and financial assistance to welfare organisations. This association lasted till April 2012.
In March 2012 the Soup Kitchen was renamed Peel Community Kitchen.
In September 2013 the Peel Community Kitchen was incorporated under Western Australia laws.
Its services were extended and till this day, meals are served 5 days per week, from 9:30am to 1pm, Monday to Friday.
On the 12th of July 2021 we relocated to 2 Tuart Avenue, Mandurah to our new premises, provided by the City of Mandurah. The move from Sutton Hall was seamless and our service was not disrupted in any way. The new premises's better kitchen facilities allow our volunteers to provide a better variety of meals.
An independent operating Board of Management is elected at the Annual General Meeting held in October each year.